WHAT I DID THIS SUMMER
A Photo-essay by Paula with help from Ken and Roberta
My folks sent me to CAMP BDE.
It was awesome. Here's the banner.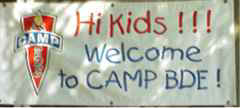 Counselor COLLEEN and her helpers checked-in all the kids.
Some of us got here early and went to visit a guy with lots of
old Chevys. WOW!!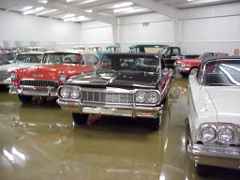 All the kids brought toys . . . BUICKS . . . big, ol' ones. We took turns watching them.
Counselor BRUCE tested everybody's food so we wouldn't get food poisoning, I think.
On Thursday We went to an old train station and got to ride on an old train. Coming back the engineer couldn't find the station and we got to walk down the tracks and get on a bus!
It was cool, I think!!!
Thursday night we had an auction. My Mom was real excited about the neat stuff I brought home, I think.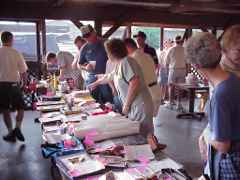 Almost forgot - here's Roberta and Ken at the Tow Truck Museum we visited in

Chattanooga.

The bench even looked like a tow truck.

Counselor Ken said it was a good idea NOT to take a train on Friday, so all the kids rode in their BUICKS. Here's James' 1932 in Lynchburg. He drove all the way from Maryland here to Tennessee. >

They let us visit Jack Daniels Distillery. We were very good and didn't drink any whiskey. Then they took us to lunch at a really nice

place . . . Miss Bobo's Boarding House. We cleaned our plates and they even let us kids have dessert!

That dessert really made a good impression, 'cause some of the campers were still being good, I think. They even helped Director ANN back to her cabin that night.

Here's a bunch of those Old Buicks that the kids brought to CAMP BDE.

Since Saturday was our last day at CAMP BDE our Counsellors had a lot for us to do.

First we went to the WonderCave . It was really dark inside. but some of the kids

got to carry lanterns.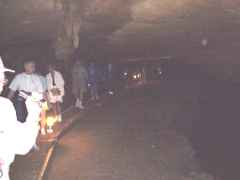 Next we went to a
Some of the kids hung out really neat old store.
in the parking lot. Some of the girls bought lots of stuff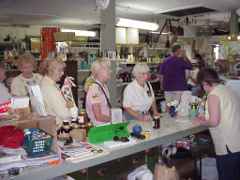 and some other kids just stayed on the porch,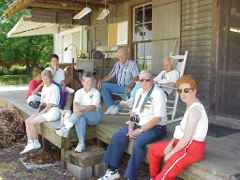 but Counsellor BRUCE made sure no one stole anything, I think.
There sure were a lot of old BUICKS in that store's parking lot.
Next we went to an old mill. Here's a bunch of us out front.
We ate lunch there. had a moon pie and an RC!!! I think
Saturday night we had a big banquet. There was lots of food. Del thought he could have two whole pies for himself since it was his birthday.
There were surprises too. Some kids won prizes . . . long distance ones.
James & Ruth, Dixie & Don, Carol & Dale, John & Donna and Al. Ann & Al got the "Good Ol Joe' Award > and Bill was awarded the Howard Lake Award.
Carol won the Choo-choo watch.
Roberta consoled Al 'cause neither of them won the talent contest. I was really the luckiest kid of all. I got to bring home the camp mascot. My Mom is going to kill me, I think. >
I sure had a lot of fun and the Camp owners said < for us to come back next year, but my Mom said she was going to send me and the donkey to South Dakota, I think.